The Leuschner Thirty Inch Telescope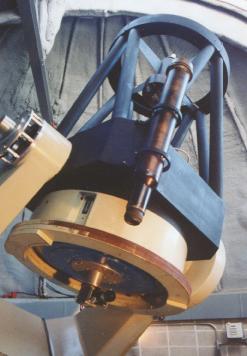 The Thirty Inch telescope was manufactured in the early 1960s by Tinsley Laboratories. Tinsley also made the correcting optics for the flawed primary mirror of the Hubble Space Telescope.

Leuschner Observatory Site
Observatory Code 660
Longitude: -122 09.4 East
Latitude: 37 55.1 North
Elevation: 304 m

Limits of telescope motion

| | | |
| --- | --- | --- |
| Limits | Switches | Software |
| East | HA <-50° | HA=-50°=-3.28hours |
| West | HA >+50° | HA=+50°=+3.28hours |
| North | Dec=+63° | Dec=+65° |
| South | Dec=-6° | Dec=-6° |

Someone must drive out to the telescope if a switch is activated. Be aware of the following:

Don't point the telescope close to a limit.
Turn tracking off when you are close to a limit or are not taking images.
The offset command ignores the software limits listed above.
The software allows you to point to Dec=64°, but the switch will be activated at Dec=63°.

Secondary Mirror Focus Travel
The focus indicator reads out in mils (1/1000 of an inch ). Secondary technical details here
The home position is at 0 mils
Typical IR camera focus is 595 mils
Maximum travel is 1360 mils
Values outside of 0 - 1360 indicate errors. To correct: tx move_sec home
There is backlash with the mechanism.

Optics
30 inch diameter primary
F:8 nominal
33 arc-second /mm scale
The telescope was re-collimated in the spring of 2001 by a group of graduate students. For details, see here and an alternate method by Dick Treffers here. Below is a drawing of the Ritchey Chretien Optics (all dimensions are in inches).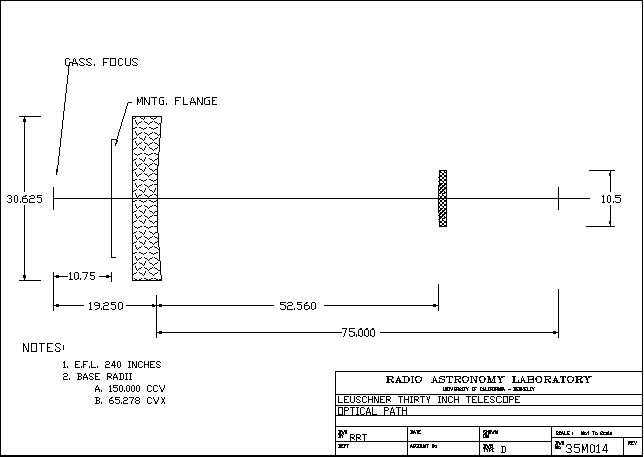 Drive system
The telescope drive is discussed here
Mounting
Below is a drawing of the mounting plate bolt circle (all dimensions are in inches).
---
Leuschner
Last updated on 2005 Sep 22 (jonah hare)